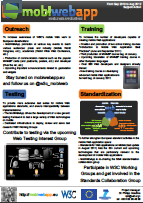 With approaches like AJAX, Web technology and browser-based applications have become an important tool for developing Internet service front ends for the desktop.  In contrast, Internet services on mobile are currently dominated by closed "application stores" each requiring service development in a different native programming language instead of using unified Web technology.
The MobiWebApp project supports the use of Web technology for developing mobile Internet services, bringing the advantages of Web applications from the desktop to the mobile world. Web applications are easy to deploy, they allow simple incremental updates and they can be developed quickly and at low cost due to a sizable existing developer base.
Last but not least, mobile Web applications have the potential to overcome the current fragmentation in the area of mobile Internet services.
Using unified Web technology for mobile applications is of particular interest for SMEs who often lack the resources to re-implement a mobile application for each of the different application stores in the market.
MobiWebApp includes support for European outreach (promotion at events and press outreach), training, the development of test suites and standards in the area of mobile Web applications.
The project is led by the World Wide Web Consortium (W3C), an industry consortium of currently more than 350 members from research and industry which is directed by Sir Tim Berners-Lee, the inventor of the Web.
See the official factsheet and follow us on @w3c_mobiweb