To increase the interoperability of the Web as a platform, the MobiWebApp project supports the creation of standards relevant for mobile Web applications.
The MobiWebApp project funds the time of the W3C Staff Contact in the Device APIs Working Group to deliver a number of technologies that reinforces the integration of the Web on the underlying devices.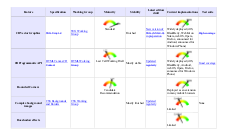 In addition to this standardization work, the MobiWebApp project is developing and maintaining a roadmap of standardization for standards in this space. (see also the roadmap from year 1)
To take into account the specific needs of European small and medium enterprises, the MobiWebApp project is also running a series of interviews of selected SMEs on their usage of Web technologies to develop mobile applications. Get in touch with Dominique Hazaël-Massieux (dom@w3.org) if you want to bring your perspective!
If you're participating in a EU-funded research project, learn more about how to get involved in W3C for your standardization needs.